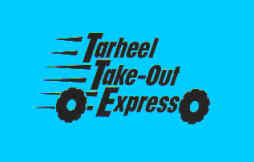 Tarheel Take-Out Express
Food for Your Mood
Providing Delivery For The Best Restaurants
in Chapel Hill
Call 942-7678
Quick & Fast Delivery To Your Doorstep, Dorm, or Business



---
Tarheel Take-Out Express
Restaurant Delivery Service (919) 942-7678

How to Order

1. Look through the menus and decide which food best fits your mood!

2. Call Tarheel Take-Out Express at 942-7678, or fax us at 942-7671.

3. Tell us your phone number, name, address, and the meals you want delivered.

4. There is a $3.00 delivery fee for the first restaurant. Each additional restaurant is $1.50. $5.00 minimum on each order.

Delivery fee does not include gratuity. Please consider your driver's efforts.

5. Tell us how you'll pay: cash, check, Visa, MasterCard, or Discover. ($10.00 minimum on credit card orders.)


RESTAURANT CHOICES

ARMADILLO GRILL
BW-3
CAROLINA BREWERY
GROUNDHOG TAVERN
HAM'S
HECTOR'S
HUNAM
INDIA PALACE
J & J'S DELI
JADE PALACE
JERSEY MIKE'S
MAMA DIP'S
MEDITERRANEAN DELI
OWENS 501 DINER
PEPPER'S PIZZA
SKYLIGHT EXCHANGE
SUBWAY
TANDOOR
TIME OUT
TONY JR'S
Why does it take 30-45 minutes until my meal is delivered? Good question...
1.
Start. It usually takes 5-6 minutes to take your order, then dispatch
a driver to pick it up.
2.
It takes the restaurant about 15-20 minutes to prepare and cook your food.
3.
On busy nights with a full restaurant, it may take 25-30 minutes to prepare your food.
4.
After we pick up your meal, our driver is enroute to your house, taking about 5-10 minutes travel time with your meal in thermal insulated bags.
5.
Due to some traffic and weather conditions, your order may take an additional few minutes to reach you.
6.
Your meal arrives!
Our restaurants have high standards, and good food takes time. Your patience is appreciated.